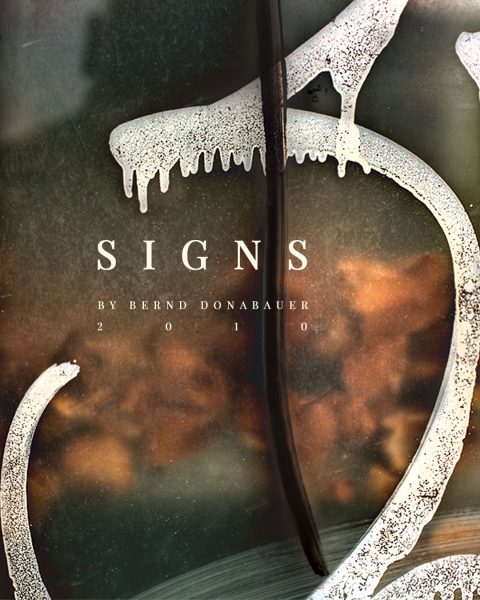 Fragments, associations, signs – photographic metaphors. Associated with signs, associations and fragments from popular culture. Put together in a diary of current affairs, unconsciously but not arbitrarily.
Gedankensplitter, Assoziationen, Zeichen – fotografische Metaphern mit einer manchmal rätselhaften Ikonographie, verbunden mit Zeichen, Assoziationen und Gedankensplittern aus der Populärkultur. Unbewusst aber nicht willkürlich zusammen gesetzt in einem subjektiven Tagebuch.
Eine Art der kontemplativen Fotografie, die ihren Ursprung in der Dharma-Kunst hat und die ihre Sehschule auf den Methoden des Miksang →, des "guten Auge", aufbaut, sich der jeder Fotografie innewohnenden Inszenierung der Wirklichkeit jedoch nicht verschließt.
Signs, i.v.O., 2010, Ref. # BD-SIG-01-2010 bis BD-SIG-10-2010.
Fine Art
Handsignierte, limitierte Auflage, 07 von 07
Hochwertiger, echter Fotoabzug auf Alu, 60 cm x 40 cm
Preis und Verfügbarkeit auf Anfrage